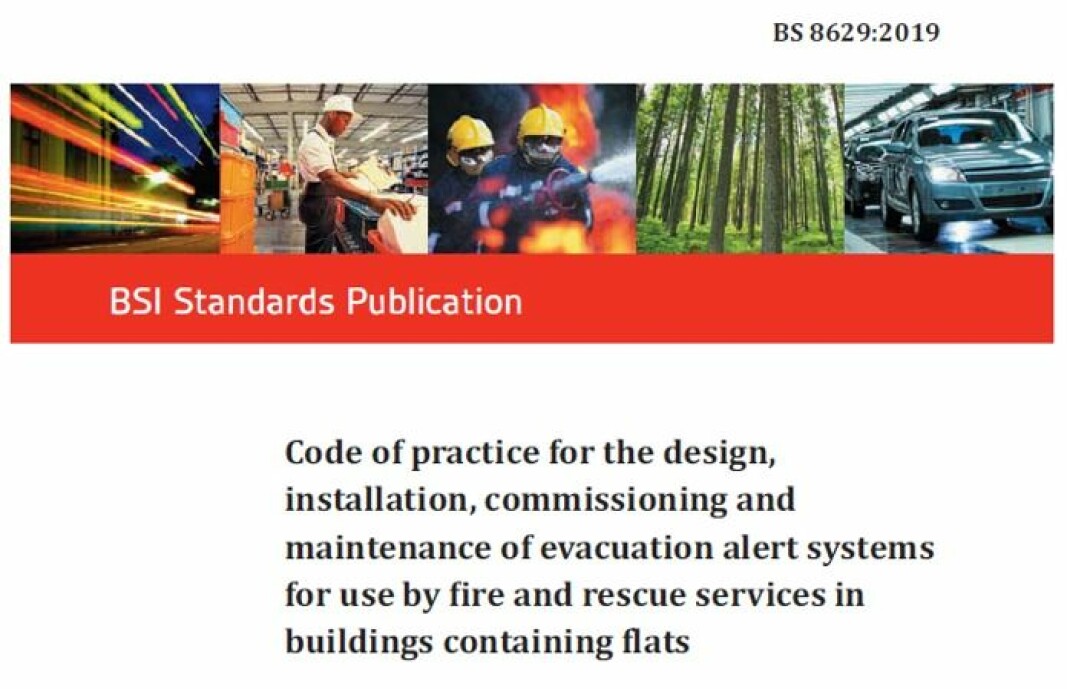 Refleksjoner rundt British Standard BS 8629
I England har de fleste boligblokker en "stay put" evakueringsstrategi ved brann. Det vil si at en evakueringsalarm går kun i den berørte leiligheten, og at en sikker evakuering er avhengig av solide brannvegger og brannstoppere for hver beboerenhet. En beboer må kunne stole på at de brannhemmende tiltakene er tilstrekkelige, og at alle systemer fungerer. Feil i oppdeling av brannvegger eller bygningsstruktur kan resultere i en katastrofe som ligner den i Grenfell Tower.
As most residential buildings adopt a "stay put" fire evacuation strategy that only sounds an evacuation alarm within the affected flat, safe evacuation would rely solely on successful compartmentation. Hence, this would require all the fire walls to maintain their integrity, the dampers and smoke ventilation to activate and operate effectively, and all the services and penetrations to be adequately fire stopped. Any problem within any of the barriers will result in a complete failure of the whole system. The failure of compartmentation in this case could result in a disaster similar to that of Grenfell.
What is BS 8629:2019?
BS 8629 was released in 2019 under the title: "Code of practice for the design, installation, commissioning and maintenance of evacuation alert systems for use by Fire and Rescue Services in buildings containing flats". BS 8629 is a standard that came into existence after the release of the phase 1 of the Grenfell tower public enquiry. Within the enquiry report, it was recommended that all high-rise residential buildings, whether existing or new, should be equipped with facilities that allow the fire brigade to notify all building residents of a fire, and hence evacuate before the spaces become untenable.
This British standard is a recommendation only and is unlikely to be enforced by law anytime soon. However, it will probably be adopted by risk assessors as part of their responsibilities under the regulatory law. In Scotland, these new systems are already required for buildings above 18 meters high and will potentially be lowered to 11 meters in the near future.
Current Procedures
Currently, when a fire incident occurs in a high-rise residential building that adopts a "stay put" evacuation strategy, fire brigade personnel need to knock on individual doors to notify residents of the need to evacuate if fire outside the fire origin flat is considered. As this method is not very effective and can risk the lives of residents and fire personnel alike, an automated process was needed. The system suggested within BS 8629 is to be used only by the Fire and Rescue Services, to avoid tampering and false alarms. The objective is to provide a reliable and effective tool to assist in the evacuation of a building containing flats in whatever manner is considered appropriate by the Fire and Rescue Services.
System Properties
One of the most important elements of the proposed system is that is should be kept completely separate from the standard fire alarm and detection within the flat and should therefore not incorporate any fire detectors or manual call points. This is also essential for the purpose of it being controlled only by the fire brigade. As it's a new system, this helps avoid any confusion between the fire alarm systems and the evacuation alert systems, at least until the concept, use, and management are well established and understood. Moreover, the evacuation alert audible tone is to be completely different and easily distinguishable from the standard fire alarm and detection sounder tone. To ensure that, training should be carried out to tenants to make them fully aware of the differences between the two and the actions needed for each. Moreover, the system should not be linked or interfaced to any other systems in the building, be it smoke control, access control, etc.
System Components
The Evacuation Alert Control Indicating Equipment (EACIE) is the main control panel. This is coupled by audible evacuation alert devices, such as sounders, placed within the flats. To consider inclusivity, integrated with that are visual alert devices, also within the flats. The system should have a separate and backup power supply to ensure continuity. The main control panel should be housed in a signed, lockable, security rated cabinets located in common areas, in which the keys are with the Fire and Rescue Services. The control panel should have a series of manual controls and without an LCD display, as a fail proof method. The EACIE should be sited in close proximity to the fire and rescue service entry point in the building and should be visible and readily accessible.
Specific system properties
The system should be designed in a way that separates the building into zones, in which the fire brigade will alert specific flats or floors to the need to evacuate. A system fault within one of the circuits should not affect any of the other circuits/ zones. Also, evacuation zones should not extend beyond a single storey of the building. In the case of complex buildings, floors can also be split into multiple evacuation zones. To maintain the integrity of the system, the used cables need to be fire rated and segregated accordingly. There are also specific frequencies and sound pressure levels that need to be maintained within the rooms of the flats to ensure that the alert signal is clearly audible to all residents. Disabled occupants are only considered and should be provided with tailored systems to ensure inclusivity. Access to the equipment and control panel is to be provided at the fire fighters' entry points with around the clock access. This is also coupled with emergency lighting and a back- up power supply for at least 72 hours, which should be located in low-risk areas of the building.
Furthermore, electrically speaking, the standard specifies certain additional measures to maintain the integrity of the system. These translate into a minimum number of wiring loops depending on the building height and the type of system used. Buildings having less than ten storeys require that two simultaneous faults do not disable the evacuation alert devices within more than half of the storeys. However, in buildings higher than ten storeys, two simultaneous faults should not disable the evacuation alert devices within more than third of the storeys.
Conclusion
BS 8629 can be considered as a temporary solution to an existing problem. It was basically created to assist the fire brigade in tackling "stay put" strategies that have the potential of failing in a timely manner. Even though "stay put" evacuation strategies can be very successful, especially in avoiding unnecessary panic and inconvenience among inhabitants, they are very highly reliant on compartmentation efficiency. As evidence shows, compartmentation can fail at times, and when that happens, the consequences can be quite tragic. Thus, if an electric system can act as a back-up measure and increase the integrity of the existing barrier, then using it should be essential.